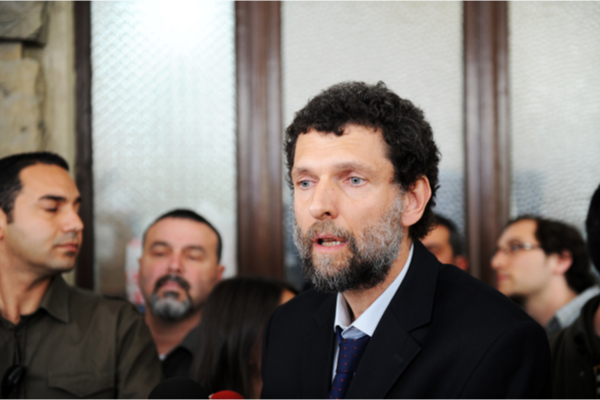 BACKGROUND: On October 18, 2021, the ambassadors to Turkey from ten Western countries – Canada, Denmark, Finland, France, Germany, the Netherlands, New Zealand, Norway, Sweden and the US – issued a statement calling on the Turkish government to honor the commitment it made when it signed the European Convention on Human Rights (ECHR) and apply the ruling of the European Court of Human Rights (ECtHR) instructing it to release Osman Kavala.
Although he has yet to be convicted, Kavala has been imprisoned since November 2017 on charges of organizing the 2013 nationwide anti-government demonstrations that have become known as the Gezi Park Protests and, together with the U.S. academic Henri Barkey, of orchestrating the still largely unexplained failed coup attempt of July 2016. No evidence has been produced to substantiate the charges. Indeed, in the convoluted logic that frequently characterizes political cases in Turkey, prosecutors claim in the indictment against Barkey that the absence of any evidence is in itself proof of his guilt as it demonstrates that he was able to hide the evidence using tradecraft that could only be possessed by a trained intelligence operative.
The Turkish Ministry for Foreign Affairs (MFA) has long had the full text of the ECHR posted on its official website, including the article stating that signatories commit themselves to implementing the rulings of the ECtHR. Nevertheless, Erdoğan and other leading members of the regime have repeatedly publicly refused to release Kavala and described calls for Turkey to fulfil the commitments it agreed to make when it signed the ECHR as interference in Turkey's internal affairs.
Before his arrest, Kavala was the best-known philanthropist in Turkey and had been particularly active in supporting projects to try to heal the country's many social divides. On October 19, 2021, the ten ambassadors who had called for Kavala's release were summoned to the MFA in Ankara. On October 21, 2021, as he returned from a four-day visit to Africa, Erdoğan told the pro-government journalists accompanying him on one of his private planes that he had informed Turkish Foreign Minister Mevlüt Çavuşoğlu that the government could not "have the luxury of hosting" the ten ambassadors in Turkey – and, in a reference to philanthropist George Soros's attempts to promote democracy, lambasted Kavala as a "Soros leftover". On October 23, 2021, speaking at a rally of his supporters in the city of Eskişehir, Erdoğan declared that he had given Çavuşoğlu the order to expel the ambassadors and that he should begin the process immediately.
However, as MFA officials desperately tried to find a way out of what threatened to be a severe diplomatic crisis, Erdoğan postponed making a final decision before a Cabinet meeting that was scheduled for the afternoon of October 25, 2021. As the Cabinet met, the ten ambassadors issued a joint bilingual statement denying the accusations that their October 18 statement calling for Kavala's release violated the terms of the Vienna Convention of 1961 – which governs diplomatic relations, including the conduct of foreign diplomats in their host countries. However, while the English language version of the statement (such as posted on the website of the U.S. embassy in Ankara) states that the embassy "maintains compliance" with the Vienna Convention, the phrasing in the Turkish language version contains a slight ambiguity, leaving it open to being interpreted – though it does not say so explicitly – as a commitment to compliance with the Vienna Convention in the future. As the Cabinet meeting continued, regime officials briefed pro-government journalists that Erdoğan had reacted "positively" to the ambassadors' statement and that they would not now be expelled. Over the days that followed, in an exuberantly Orwellian inversion of reality, Erdoğan and a procession of pro-government media commentators proclaimed that his determined stance had forced the representatives of some of the most powerful countries in the world into a humiliating climb-down and a commitment never again to dare to interfere in Turkey's internal affairs. Not only is this untrue but the statement of October 18 calling on Turkey to fulfil its international obligations has remained on the website of the US embassy in Ankara.
IMPLICATIONS: In recent years it has become commonplace for Erdoğan's disenchanted former supporters and sympathizers to claim that he changed from being a pluralistic liberal during the AKP's first years in power to being the repressive autocrat he is today. This is misleading and often self-serving as it can be used to absolve his erstwhile supporters and sympathizers of having to admit that they simply got Erdoğan wrong – and confused how he initially felt he needed to act with how he would act when, as eventually happened, he was confident that he was in power as well as in office.
Nevertheless, there is little doubt that the Gezi Park Protests marked a turning point in how Erdoğan was seen by other countries, particularly in the West, where his brutal suppression of the demonstrations confirmed what had become growing suspicions that he was not the democrat that they had hoped. The Gezi Park Protests were also when conspiracy theories – in which nefarious Westerners and their domestic lackeys are feverishly trying to overthrow him – started to become a staple of Erdoğan's public narratives.
Conspiracy theories have long been able to find fertile ground in Turkey. For Erdoğan, they undoubtedly serve a political purpose in that they provide scapegoats for his own failures. Some have been extremely successful. For example, despite the absence of any evidence, a majority of Turks – including many who are opposed to Erdoğan – still believe that the U.S. was behind the failed coup attempt of July 2016. Although it has secured some traction among Erdoğan's supporters, the belief that the Gezi Park Protests were also part of a foreign conspiracy is less widespread – probably not least because so many Turks either participated themselves or witnessed the protests at first hand and are aware that they were not instigated or coordinated by anyone, local or foreign.
The Erdoğan regime's explanation for its claimed conspiracy theories – namely a desperate attempt by the West to prevent Turkey's otherwise inexorable rise to global pre-eminence under Erdoğan's leadership, spiced with anti-Muslim prejudice – has developed a self-aggrandizing logic of its own. For example, in this reasoning, the deteriorating state of the economy and the weakness of the Turkish Lira are in themselves proof of how desperately Western conspirators are trying to undermine Erdoğan and thus, given his continued retention of power, how strong he is and how strong he has made Turkey.
But there is growing evidence that such narratives – including the manner in which Erdoğan and the pro-government media distorted his climb-down regarding the ten ambassadors – go beyond mere perceived political expediency; and that Erdoğan genuinely believes them.
It is unclear how much of reality filters through the fog of hubris and sycophancy with which Erdoğan is now surrounded. He has become increasingly dependent on a teleprompter for his public statements and, at least inside Turkey, largely insulated from all but the most fawning of journalists' questions. Even if his appeal was limited to a specifically Turkish context, in his prime Erdoğan was the most formidable political orator of his generation. Although there are still sometimes occasions when he is able to think on his feet – such as in his interview with CBS in September 2021 when he reaffirmed Turkey's right to buy more air defence systems from Russia if it so wished – when he is stripped of the security of a prepared written text, he has become very prone to gaffes. Often, he looks simply lost.
But there is no indication that Erdoğan's self-confidence, which has grown considerably the longer he has remained in power, shows any sign of diminishing. Instead, the more his policies fail, the more he appears to believe in himself. This can be seen most clearly in his economic policies, especially his conviction that, contrary to the opinion of the overwhelming majority of economists, high interest rates cause high inflation. When officials at the ostensibly independent Central Bank have disagreed, they have been fired and replaced with individuals who have dutifully cut interest rates. Similarly, when the official data published by the Turkish Statistical Institute has fallen short of Erdoğan's own assessment of the health of the Turkish economy, members of staff there too have been dismissed.
In this context, for Erdoğan, conspiracy theories probably fulfil not only a political purpose but a psychological need. Without them, it is difficult to avoid the conclusions that, after nearly 20 years in office, Erdoğan himself has failed.
The Erdoğan regime's conspiracy theories also contain a disturbing undercurrent. It is commonplace for the pro-government media to use vague phrases such as "certain circles in the U.S." or "international capital" to describe the prime movers in the alleged plots to overthrow Erdoğan, in the knowledge that most of their readers will understand them as references to Jews. Kavala is widely regarded in Turkey as being descended from members of the Sabbatean movement, which is composed of followers of Sabbatai Zevi (1626-1676), who claimed to be the Jewish Messiah. Barkey is Jewish, as is Soros.
CONCLUSIONS: Erdoğan's climb-down from his declaration that he was expelling the ten ambassadors has bought him some time. But he faces another, potentially more severe diplomatic crisis, if he does not now use his influence over the ostensibly independent Turkish judicial system to ensure Kavala's release on or before Kavala's next appearance in court, which is currently scheduled for November 26, 2021.
One possible way for Erdoğan to try to avoid having to choose between the likely extremely damaging fallout – not least for the Turkish economy – of continuing to detain Kavala and the potential domestic humiliation of releasing him would be to use a similar method to the one he employed in the case of the U.S. pastor Andrew Brunson. After being imprisoned in October 2016 on spurious charges of trying to overthrow the Erdoğan regime, in October 2018 – after the US had imposed sanctions on Turkey over his continued detention – Brunson was hastily convicted, sentenced and released for time served. However, the repeated viciousness of Erdoğan's public utterances about Kavala appear indicative of a deep personal antagonism, which was not the case with Brunson. It is also possible that Erdoğan genuinely believes that Kavala was plotting to overthrow him. If so, the chances of Kavala being released will be considerably diminished.
Gareth Jenkins is a Non-resident Senior Fellow with the Central Asia-Caucasus Institute & Silk Road Studies Program Joint Center.