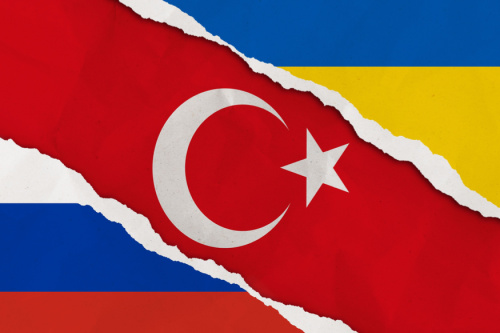 BACKGROUND: On January 31, the Turkish Statistical Institute released foreign trade statistics for the period of January-December 2022 according to which Turkey's exports to and imports from Russia had risen significantly. In 2022, Russia became Turkey's number one import partner with US$ 58.85 billion value of imported goods - twice as much as in the same period in 2021. According to United Nations COMTRADE database on international trade Turkey's exports to Russia also surged – in 2022 they amounted to US$ 9.34 billion, in comparison to US$ 5.8 billion in 2021.
The overall value of Turkish exports in 2022 was at a record high and hit US$ 254 billion which was publicly announced in early January 2023 by Turkey's president Recep Tayyip Erdoğan. The Turkish government and financial institutions have been desperate to prop up the faltering Turkish economy which grapples with double-digit inflation, soaring costs of living and a weak currency by improving household purchasing power and financial stability, as well as boosting economic growth. Economic concerns were the chief reasons why Ankara declined to join Western sanctions against Russia and decided to use the disruption of the trade flows created by them as a leverage to boost Turkey's economic and trade opportunities. This approach is unlikely to change in the near-term, especially since rebuilding the provinces that were devastated by the February 2023 earthquakes requires spending astronomic sums.
IMPLICATIONS: The surge in trade volumes in 2022 suggest that Turkey has become an intermediary between sanctioned Russia and the West in the wake of the Ukraine war, and might have helped many Russian companies and individuals to circumvent the sanctions regime. Nevertheless, Turkish authorities vehemently deny that Turkey exports or facilitates trade of sanctioned goods to Russia or items that could assist Russia's war effort in Ukraine. Turkey's Foreign Minister Mevlüt Çavuşoğlu has asserted that the spike in trade between Turkey and Russia can only be attributed to an increase of the volume and cost of Turkey's energy imports. He firmly denied that his country is exporting goods such as chemicals and microchips which can be used in Russia's war efforts.
Indeed, Turkey's imports of Russian oil, natural gas and coal have significantly risen in 2022. This is because Russia, hit by Western sanctions, was forced to reroute its energy exports away from European Union market, often settling for the lesser price. Ankara has keenly exploited such possibilities and is even conducting talks with Moscow to create a natural gas hub on Turkish territory, making Turkey a back door for Russian hydrocarbons to enter European markets. Taking advantage of the discounted price and EU energy ban which came into force on December 5, 2022, Ankara doubled its oil exports from Russia in 2022 in comparison to the previous year and is keen to purchase even more. Also, Turkey is carrying out negotiations with Russia to obtain a hefty discount of 25 percent on its natural gas.
Generally, since the outset of Russia's invasion of Ukraine, Turkey has become one of the biggest importers of Russian hydrocarbons and coal. According to the Centre for Research on Energy and Clean Air (CREA) estimates from 2023, since the start of Russia's war in Ukraine Turkey has become the third-largest consumer of Russia's fossil fuels after China and Germany. CREA calculated that since February 2022 Turkey purchased US$ 14.8 billion worth of Russian crude oil, US$ 7.5 billion worth of natural gas and US$ 3.6 billion worth of coal.
Energy Intelligence also reports that Turkey has been buying unusually large volumes of cheap Russian diesel which it uses for domestic needs and exports its own production to the EU, which banned Russia-produced refined products starting from February 5, 2023. Such a mechanism is called an "origin swap'' and is not explicitly banned because Russian diesel does not reach the European Union market. However, such operations, which can be very profitable for the refiner, nonetheless demonstrate how Turkey benefits from being the intermediary between sanctioned Russia and the West.
The significant spike in trade alone does not in itself suggest that Turkey has become a safe haven for Russia to circumvent sanctions. Nevertheless, The Wall Street Journal retrieved data which reveals that a number of Turkish companies were supplying Russian firms with essential items to produce military armament, or cooperated with Russian entities which were sanctioned by the U.S. According to WSJ, in 2022 at least 13 Turkish companies sold a variety of items including plastics, rubber items and vehicles worth around US$18.5 million to a number of Russian companies which were sanctioned by the U.S. for their role in Russia's aggression towards Ukraine. It is worth noting that plastic and rubber are necessary products for construction of military hardware and equipment which is why their export to Russia are banned under U.S sanctions. WSJ also revealed that Turkish companies have sent Russia millions-worth equipment such as U.S.-manufactured electric generators, elevators, circuit boards, conveyors, steering wheels for trucks and others which also fall under U.S. sanctions. Additionally, according to the Voice of America sources in 2022, Turkey surprisingly started exporting substantial number of semiconductors to Russia while in 2021 these exports were minuscule. In late February last year, the U.S. imposed a ban on the sale to Russia of technologically advanced products such as semiconductors, which can be used both for private and military purposes, in order to prevent Moscow from getting access to the high-end technology.
There exists another factor which suggests that Turkey might help Russia to evade sanctions: In 2022, the Turkish newspaper Dünya and the France's Le Monde reported – quoting sources from the logistics industry – that Turkish warehouses are overflowing with tons of goods shipped from the EU or the Far East to Russia via Turkey. Many of these cargoes, without being formally registered as imports, are transported by Turkish cargo companies to Russia. Shipments to Russia via Turkey are also carried out via air, land and rail routes.
Turkey has also become a safe haven for Russian companies and wealthy individuals to move their money and other assets, including those oligarchs and politicians who want to evade Western sanctions or avoid capital controls imposed by their country. Other escapees from Russia include young dissidents or tech-workers that fear being drafted into the army to fight in Ukraine or getting imprisoned. Turkey is welcoming these cash inflows and is facilitating money transfers for Russians, which would be otherwise impossible after Western sanctions blocked their access to the most popular bank cards and removed certain Russian banks from the SWIFT system. Russian cash influx is a welcome development for Ankara since inflow of foreign currency helps to stabilize Turkey's lira, which in the past years have been rapidly losing its value against the U.S. dollar and balances the foreign trade deficit. Russians are also registering their companies in Turkey and investing in the local economy, particularly in real estate. What is more, M. Murat Kubilay, an independent financial advisor on the Turkish economy, writing for the Middle East Institute, asserts that Turkey has received informal financial transfers from abroad part of which come from leveraging Ankara's relations with Russia. Allegedly, these funds, which are not registered as formal transactions, have been a major source for Turkey for reducing its historically high foreign trade deficit, particularly after the start of the war in Ukraine.
CONCLUSIONS: Ankara insists that joining Western sanctions against Russia would hurt the Turkish economy and refuses to do so unless sanctions are authorized by the United Nations. This gives Turkey a possibility to position itself not only as a mediator in the Russo-Ukrainian war, but also to reap benefits from facilitating trade between the West and sanctioned Russia, or supplying the latter with much needed but banned goods. The country has also become a safe haven for Russian companies, elites and oligarchs to park their assets, including those individuals who are sanctioned in Western countries.
Turkey, however, is not the only country which has refused to impose sanctions against Russia and that has positioned itself to reap economic benefits from the tectonic shifts in trade caused by Western bans on Russia's economy. This group of countries also includes China, India, Saudi Arabia as well as countries in the South Caucasus and in Central Asia.
The U.S. and its European partners have put pressure on countries like Turkey to stop helping Russia evade sanctions. Washington has raised its concerns with both Turkish authorities and industry representatives and repeatedly called to their attention that certain commercial ties between Turkey and Russia are suspected to fuel Moscow's war effort in Ukraine, and explicitly warned that companies and individuals trading with sanctioned Russian entities may face secondary sanctions. Indeed, Western pressure has had some impact as several leading Turkish banks decided not to join the Russian Mir payment system despite initial plans. However, trade cooperation with Russia remains crucial for Turkey and the country is unlikely to change course.
Natalia Konarzewska is an expert and analyst with focus on political developments in the post-Soviet space.