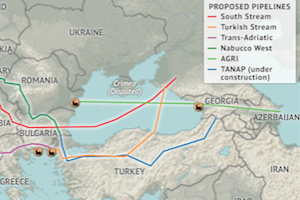 BACKGROUND: It was only last month that Turkey's President Recep Tayyip Erdoğan and Russia's President Vladimir Putin shook hands during the G20 summit in Antalya in Turkey and decided to hold a High-Level Cooperation Council meeting in Moscow on December 15. The two presidents agreed that a number of multimillion dollar projects, including the Turkish Stream project, would be among the many issues to be discussed. This was a clear signal that Moscow and Ankara were prepared to push ahead with the controversial and highly politicized pipeline scheme.
Now, the situation has changed dramatically. After a Russian fighter plane was shot down by Turkey on November 24, tensions have dramatically escalated between the two countries. Moscow is economically retaliating against Ankara, restricting a number of projects. On December 3, Russian energy minister Alexander Novak stated that the talks between the two governments about the Turkish Stream had been broken off. "The negotiations on the project "have been suspended," Russian news agency Tass reported. On December 5, President Erdoğan stated that "It was Turkey that suspended the Turkish Stream, since the project did not meet our demands."
At first, however, Erdoğan had tried to cool down the crisis. "We are strategic partners ... Joint projects may be halted, ties could be cut. Are such approaches fitting for politicians?" the Turkish president asked, referring to Moscow's rhetoric after the downing of its war plane. "We really attach a lot of importance to our relations with Russia... We don't want these relations to suffer harm in any way," he said. On December 3, Prime Minister Prime Minister Ahmet Davutoğlu implored Russia not to sacrifice common economic interests.
In December 2014, following the demise of the South Stream project, Moscow had proposed the Turkish Stream gas pipeline to Ankara; the idea was to allow delivery of Russian gas to Turkey and the European market. The project would provide 14bcm of gas per year to the Turkish market and another 49 billion cubic meters per year to Europe via a new hub on the Turkish-Greek border. Initially, an agreement was sought for four lines, each with a capacity of 15.75 billion cubic meters per year. Moscow saw Turkish Stream as an alternative to the Ukraine route to Europe, securing a smoother transit of Russian gas. Earlier, Gazprom had stated that after the current transit contract with Ukraine expires in 2019, it would not ship its gas via Ukraine.
At that point, Moscow was desperately looking for alternative routes and partners to counter heavy Western sanctions and political and economic isolation. With the offer to Turkey, Russia was demonstrating that it was willing to surrender its decades-long dominant role in the European market by sharing with Ankara control over shipments of a major part of its gas to Europe. Turkey had set its sights on Turkish Stream as a means to achieve its goal of becoming a major gateway to the EU energy market. As a part of the deal, Ankara also wanted to get a better gas price and at that time, it felt that it had an upper hand over Moscow; Moscow wanted to keep both northern and southern route options available, so Turkish Stream was important to secure a Sothern entrance for its gas to the EU market.
But since then the domestic and international political and economic dynamics have changed dramatically. In fact, negotiations between Moscow and Ankara over the project had already lost momentum. Moscow and Ankara had been unable to reach a formal agreement over the line in June 2015, as had initially been expected.
Subsequently, Moscow announced that it would expand the Nord Stream pipeline. The move was seen as not just a backup plan for Turkish Stream, but also as a clear message to Ankara that Moscow has an alternative route for gas deliveries to Europe. Since September 2015, talks between the two countries had been completely "frozen."
Moscow's initiation of its military mission in Syria complicated the situation even more, souring relations between the two countries and pushing Turkish Stream issues off the table altogether.
President Erdoğan – who before the current crisis recently referred to Russia as a strategic partner – had warned that the Russian moves in Syria threatened mutual multibillion dollar projects in Turkey. Erdoğan went even further, saying that his country could even reconsider buying Russian gas.
In October 2015, Moscow made another move, signaling a major shift in its supply strategy. Gazprom CEO Aleksey Miller announced that the planned scope of the Turkish Stream project had been cut to two strings, and that this alteration was directly linked to the expansion of the Nord Stream pipeline. The first string of the Turkish Stream would allow Gazprom to stop sending gas to Turkey via Ukraine. The second line would target the EU market. And Turkey's security of supply would no longer be vulnerable to political stand-offs between Moscow and Kiev. Currently, Russia supplies 14bcm of gas to Turkey via Blue Stream and about 15bcm via Ukraine and the Trans-Balkan pipeline system.
IMPLICATIONS: It is clear that Turkey and Russia depend on each other. Economic rationality speaks against the two countries taking drastic decisions that endanger their common economic interests. Reasonably, both would be expected to try to safeguard common economic interests, including the Turkish Stream project.
Ankara has limited ability to alter its energy relationship with Moscow, its biggest gas supplier. Currently, 10 billion cubic meters of Russian gas is imported by Turkey's private sector, while the remaining about 20 billion cubic meters are imported by the state-owned Botaş. About 70 percent of Turkish gas imports originate from Russia and there are few immediate alternatives. Additional volumes of gas from Azerbaijan and Iran would take years to bring online. Other options are even more problematic.
Turkey is Russia's second biggest gas market after Germany. At this point, it is unlikely that Moscow will impose any sanctions on current gas supplies to Turkey. It is hardly in Moscow's interest to reduce its gas income and or lose any share in Turkish gas market.
Since last December, Moscow has weathered Western sanctions over Ukraine, and re-engaged in international politics. Russia's Gazprom has obtained support among European companies to expand its Nord Stream pipeline. The EU's leading member, Germany, could be the main beneficiary of Nord Stream expansion. This would amplify the country's status as a regional energy hub, as up to 80 percent of Russia's total exports to Europe could, in theory, be directed via a single route. This would come at the expense of Turkey's ambitions to become a major transit route for Russian gas. Moscow wanted to keep both northern and southern route options available. The Turkish Stream was still important to secure a southern entrance for its gas to the EU market.
In the current hostile environment and with the deep mistrust that prevails between Ankara and Moscow, the idea of Turkey as a transit hub for Russian gas is unlikely to make any headway. It was apparent that the implementation of the Turkish Stream project would be delayed or even canceled.
It was already clear when the project was first announced, that it could not be implemented unless both sides invest a significant amount of time, money and most importantly, political will. Both sides have already faced a number of potential stumbling blocks, including questions about gas prices and how to manage shipments to the European market, as well as criticism from Brussels. In the current situation, neither side has the political will to keep the Turkish Stream project moving forward. At the same time, neither side stands to lose much if the project is slowed down. It could be revived later, because the project potentially serves the interests of both sides.
CONCLUSIONS: Turkey and Russia remain interdependent and the two countries will reasonably eventually try to find common ground; however, the result will depend on how soon they will be able to check and eventually defuse the tensions that are now rapidly building up. This process will have direct impact on political and economic dynamics between Moscow and Ankara as well as wider, regional implications.
Despite sharp political disagreements over Syria, Cyprus and Armenian-Azerbaijani tensions, Russia and Turkey have in the past weathered difficult times, pragmatically handling their differences. However, the current crisis is substantially much different from any other previous quarrel. But even at this point it can be seen that, as political dynamics shift for both countries, they seem to be recalculating their approaches as they pursue their objectives.
Dr. Najia Badykova is the head of Antares Strategy consulting.
Image attribution: www.telegraph.co.uk, accessed on Dec 7, 2015