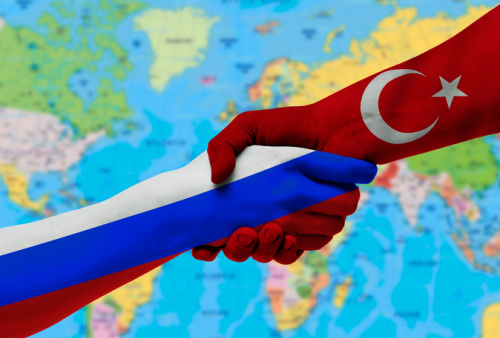 BACKGROUND: Late on July 10, NATO Secretary-General Jens Stoltenberg announced that Turkey's President Recep Tayyip Erdoğan had agreed to send Sweden's accession protocol to the Turkish Parliament "as soon as possible." The announcement was made following trilateral talks between Stoltenberg, Erdoğan, and Swedish Prime Minister Ulf Kristersson on the eve of the NATO summit in Vilnius, Lithuania.
The breaking news came as a pleasant surprise since Erdoğan appeared non-compromising the day he left for Vilnius. In fact, he added a last-minute condition – the revival of Turkey's membership process to the European Union – shocking European leaders, who countered by saying that there is no connection between the two accessions. Erdoğan's intransigence on Sweden's entry to the Alliance looked unbroken despite pressure from Washington, which started an intense diplomatic campaign as soon as elections were over in Turkey.
U.S. Secretary of State Antony Blinken's meeting and telephone conversations with his Turkish counterpart Hakan Fidan, in the weeks leading to the NATO summit, resulted in a phone conversation between President Joe Biden and Erdoğan, who complained about the U.S. Congress' refusal to green-light the sales of F-16 warplanes to Turkey.
In short, as many were pessimistic about a positive outcome from the meeting between Erdoğan and the Swedish Prime Minister Kristersson in Vilnius, Stoltenberg's announcement came as a huge relief among member countries as the Alliance was able to convey a message of unity to Russia. Making a star appearance at the summit, Erdoğan looked as the man who saved the show.
In fact, earlier, Erdoğan had again taken everyone by surprise when he endorsed Ukraine's NATO membership during President Volodymyr Zelensky's visit to Turkey a week before the Vilnius summit. But what was even more puzzling was Erdoğan's unexpected decision to send home with Zelensky five commanders of the Azov Regiment, who were supposed to remain in Turkey until the end of the war.
Following these unexpected moves from Erdoğan, several Western media commentators jumped to the conclusion that the Turkish leader is turning his back to Russia. Supposedly, after having secured his re-election and facing the reality of now having to deal with his country's deep economic crisis, Erdoğan is executing a pivot to the West. Indeed, the appointment of Mehmet Şimşek as Minister of Finance was interpreted as a signal that Ankara will resume a more conventional economic policy. Şimşek's statement that Turkey "has no choice but to return to a rational ground" in its handling of the economy led to conclusions that a similar turn could be expected in the country's foreign policy. A return to rationality in economic policy suggested that Turkey would also seek better relations with the West since that would help Turkey attract Western investment.
But Erdoğan once again surprised everyone by making clear that he was in fact in no mood of sending Sweden's accession protocol to the Turkish parliament "as soon as possible." The Turkish parliament is closed, Erdoğan said during the press conference in Vilnius – which was not true – making clear the ratification would be delayed to October when the parliament will reconvene after its summer recess. "Turkey did not say yes to Sweden's NATO membership; it said yes to open the way to its membership," said Ömer Çelik, the spokesperson of the governing Justice and Development Party (AKP) after the Vilnius summit. While there are reasons that impel Erdoğan to improve Turkey's relations with its Western partners, the Turkish president must in fact also make sure to nurture the relationship with Russia.
IMPLICATIONS: Russian President Vladimir Putin helped Erdoğan get reelected, notably by twice postponing Turkish natural gas payments. Clearly though, now that the elections are over, the Russian leader is no longer in the mood of doing the Turkish leader any more favors without getting anything in return. After extending the grain deal for two months just before the second tour of presidential elections, Russia suspended the deal on July 17. Before that, Russia vetoed the extension of an UN-brokered deal that allowed for the delivery of aid overland from Turkey into rebel-held areas of Syria. The move, which can disrupt the flow of humanitarian aid, has the potential of igniting a new flood of refugees toward Turkey.
Ukrainian President Wolodymyr Zelensky's visit to Turkey together with Russia's latest moves can be interpreted as attesting to tension between Erdoğan and Putin. Yet, these moves should rather be seen as opening salvos, as the two leaders have to soon meet to negotiate the course of their relationship according to the new realities on the ground.
In the short term, Erdoğan will use Sweden's NATO bid to secure the purchase of 40 F-16 fighter jets from the U.S. and nearly 80 modernization kits for its existing warplanes. Turkish experts expect Washington and Ankara to start simultaneous processes in their respective legislative branches. In other words, Turkey will first wait for the US administration's formal notification to Congress before going ahead with the ratification.
Erdoğan also made clear that he expects an invitation from Biden to Washington when he met the U.S. president in Vilnius. A handshake with the leader of the American superpower is hotly desired ahead of the local elections in Turkey in 2024, as it would reinforce the image of Erdoğan as a leader of global importance.
Meanwhile, on the European front, Erdoğan sees a window of opportunity to improve his relations with European capitals. For their part, European leaders appear to be willing to engage more with Erdoğan. As Turkish membership talks remain frozen, seeking new ways of engagement stands as the principal motivation in EU leaders' call last June, on the bloc's foreign policy chief Joseph Borell and the Commission to prepare a "strategic and forward-looking" report on relations with Turkey.
Erdoğan also counts on the de-escalation in the Aegean and the East Mediterranean in warming the mood with the EU. Following the improvement of relations with Athens after the February earthquakes Erdoğan met with Greece's re-elected leader Kyriakos Mitsotakis, on the margins of the NATO summit. The two leaders decided to resume talks, hailing a new positive climate in their ties. The fact that Erdoğan avoided referring to a "two-state solution" – Turkey's official stance on what a solution to the Cyprus issue would amount to – during his recent visit to the Turkish part of Cyprus suggests that he is likely to take on a more conciliatory stance on the issue. By contrast, he is in no mood for democratic reform at home. When asked during the Vilnius summit whether he intended to move on that front as he asked for the revival of EU membership talks, the Turkish president retorted that there is no problem in Turkey in terms of democracy or fundamental freedoms.
While the EU wants to seek ways of increasing cooperation with Turkey, its foreign ministers decided on a conditional re-engagement at their meeting on July 20. "Solving the Cyprus issue, in line with the relevant United Nations Resolutions, will be key in this re-engagement," said Joseph Borell, adding that "upholding fundamental freedoms and values would be essential." This tells us that there will be again a catch-22 situation in Turkey-EU relations in October, when Borell's re-engagement report is due and when the Turkish parliament will reconvene and presumably ratify Sweden's NATO membership.
CONCLUSIONS: It would be naive to expect Turkey to distance itself from Russia. Erdoğan will not pivot to the West at the expense of turning his back to Putin. He will continue his careful balancing act between Russia and the West. As in the past, Turkish-Russian cooperation will go hand in hand with competition as the two leaders cannot afford to sever their ties.
Meanwhile, the EU realizes that keeping institutional relations with Turkey at a minimum leaves it without any leverage on Turkey. As its calls for democratic reform will continue to be rebuffed by Turkey, Brussels will be forced to find creative ways to re-engage with Ankara without appearing to be on an appeasement course toward an authoritarian regime.
Unwilling to move on democratic reform, Erdoğan may use Sweden's ratification and his ties to Putin as leverage on the EU, while counting on a de-escalation in the Eastern Mediterranean. Erdoğan might even green-light the resumption of talks on Cyprus as long as the EU minimizes its complaints about Turkey's democratic deficit.
The U.S. and the EU will have to face the challenge of facing an ever more transactional Erdoğan who will continue to rely on geopolitical brinkmanship.
Barçın Yinanç is a foreign policy columnist at the Turkish news site t24.