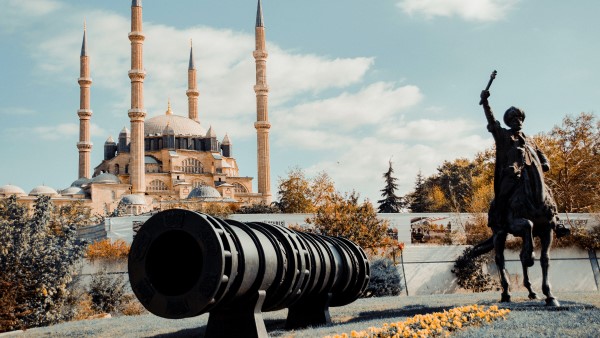 BACKGROUND: On May 24-25 Poland's president Andrzej Duda paid an official visit to Turkey and held a bilateral meeting with his Turkish counterpart Recep Tayyip Erdoğan. The visit resulted in the signing of several agreements in various sectors including agriculture, tourism and defense. The highlight of this visit was a contract on the acquisition by Poland of 24 Bayraktar TB2 unmanned combat aerial vehicles (UCAVs). The contract, worth around US$ 270 million, will be completed in 2024. Apart from the drones it includes MAM-L and MAM-C smart micro munitions, SAR radars, simulators, training and logistics package. Some parts of the drones will be serviced in Poland.
The purchase came as a suprise to many in Poland as the country will become the first NATO member to buy Bayraktar drones. The contract received mixed reviews from Polish analysts. Commentators criticized the fact that the drone acquisition worth millions of dollars was made in a haste and outside tender procedures. Defense industry experts pointed out that Bayraktar TB2 UCAVs are the most successful in the battlefield when in coordination with other weapons such as loitering munitions, guided missile lauchers and artillery, but that such a configuration cannot be replicated within the Polish army. Other experts were worried that drone purchases in Turkey might put a damper on Poland's ambitious plans to construct its own UCAV. The Polish Ministry of Defence has launched several UCAV acquisitions programs which envisaged purchase of combat drones, but these programs were significantly delayed. Initially, some analysts speculated that the Turkish Bayraktar drones were purchased within the exisiting programs but Polish Defense Minister Mariusz Błaszczak denied this. Błaszczak explained that Turkish drones were purchased outside these programs and tenders because of the urgent needs of the Polish army and because UCAVs of this class are not offered by Polish producers.
Meanwhile, Turkey has in the last months deepened its defense cooperation also with Ukraine, another of Russia's neighbors that Moscow is in conflict with. In fact, both Poland and Ukraine have benefited from defense partnerships with Turkey, especially in the area of unmanned aerial systems (UAS), for some time. In 2018 Ukraine purchased 12 Bayraktar TB2 drones from Turkey and it has established a joint venture – Black Sea Shield – between Bayraktar's manufacturer Baykar and Ukrspetsexport which oversees cooperation in developing UAS, aerospace engines and guided munitions. Additionally, Kyiv plans to acquire as many as 48 Bayraktar TB2 drones in the future. Both countries are also involved in the Akinci project – heavy strike unmanned aerial vehicle (UAV) – which is produced by the Baykar company and is equipped with Ukrainian Ivachenko-Progress AI-450T turboprop engines. Also included in the defense cooperation between Ukraine and Turkey are a wide range of other defense projects.
During Ukraine's President Volodymyr Zelensky's visit to Turkey in October 2020 several important agreements were signed, including defence cooperation accords and a military framework agreement. Few details have been presented about these accords, but according to analysts the two sides discussed partnerships in engine and space technologies, particularly the transfer of Ukrainian technology to Turkish arms manufacturers and defense projects. Turkey is also reported to be interested in purchasing Ukraine's AN-178 aircraft and in joint cooperation in manufacturing satellite technology.
in April 2021, President Zelensky paid a second visit to Turkey to participate in the Turkish-Ukrainian High-Level Strategic Cooperation Council, a visit that coincided with the heightened tension in eastern Ukraine. Since late March 2021, Russia has been amassing arms and military personnel on the Ukrainian-Russian border close to the front in Donbass and in Crimea. This led some commenters to presume that the main objective of Zelensky's visit was to solicit the support of Ankara against Russia's incursions. President Erdoğan reaffirmed his country's support for Ukraine's territorial integrity. Turkey has refused to recognize Russia's annexation of Crimea, and it has criticized the infringements on the rights of the Crimean Tatars.
However, shoring up support against Russia was not the sole purpose of Zelensky's April visit to Turkey. Both countries are also poised to wrap up a free trade accord and they agreed to audit remaining, technical issues so as to remove the final obstacles. In the past few years, Turkey has become one of Ukraine's top foreign trade partners – bilateral trade between the two countries reached $5 billion in 2020 and the pending free trade agreement is expected to raise it to $10 billion in the next few years. Turkish companies expect investment opportunities in Ukraine's privatization program and in the Ukraininan energy, construction and medical sectors.
IMPLICATIONS: Turkey's rapprochement with Poland and its burgeoning ties with Ukraine carries significant geopolitical implications, and Ankara's warming ties with Warsaw and Kyiv inevitably reverberate in Moscow. According to analysts, Warsaw hopes that the recent drone deal with Turkey will have the benefit of further complicating the relations between Ankara and Moscow. Indeed, the drone sale to Poland is part of Turkey's efforts to prove its usefulness for the Western alliance as a bulwark against Russia.
Poland's pivot towards Turkey was meant to send a signal to Washington too. Since President Joe Biden took office, American-Polish relations have cooled off. The conservative Polish government was particularly irked about the fact that Washington recently waived sanctions on a company which builds the Nord Stream 2 pipeline. The Polish Minister of Foreign Affairs Zbigniew Rau was not informed about this decision by the U.S. administration, but learned about it from the press.
In fact, Poland has for some time explored the possibility of enlisting Turkey in facing the security challenges on NATO's eastern flank; to that end, Warsaw has sought to persuade Ankara to assume a more active role in countering Russia in eastern Europe. For that purpose, Poland joined NATO's Tailored Assurance Measures for Turkey in 2020 and Polish military personnel was dispatched to Turkey's Incirlik base in April 2021. It seems that Warsaw can count on reciprocal, Turkish gestures: during the visit of President Andrzej Duda to Turkey, President Erdoğan announced that Turkey will send its F16 fighter jets to Poland as a part of NATO's Baltic Air policing mission for the first time since 2006.
However, there are voices in Poland that warn against seeing Turkey as a possible alternative to the U.S. in providing security for NATO's eastern flank; they point out that notwitstanding recent Russian-Turkish tensions, Turkey still strategically cooperates with Russia in many spheres and is unlikely to risk a confrontation with Moscow over Eastern Europe. Ultimately, though, it is unlikely that the Polish government would seriously envision Turkey being able to offer a security alternative to the U.S. Rather, Poland's pivot towards Ankara (and China) signals that Poland – which has invested much, in terms of money and effort, into its relations with U.S. – expects reciprocal gestures from the United States, and especially hopes for an understanding of its energy security needs.
Turkey's developing defense ties with Ukraine and its political support for Kyiv have increasingly become a source of annoyance for Russia. In May, Russian Foreign Minister Sergei Lavrov in an interview warned Turkey ''to carefully analyze the situation and stop fueling Kyiv's militaristic sentiment''. Lavrov also thereatened that supporting Ukraine's ''aggressive'' actions against Crimea will be regarded as an infringement on Russia's territorial integrity. Most likely, the statement was a riposte to the support for Ukraine's territorial integrity which Turkey pronounced in April, amidst growing tensions in Donbass. President Erdoğan also reaffirmed Turkey's stance against the annexation of Crimea by Russia and expressed support for Ukraine's Crimea Platform initiative which aims to heighten the international awareness of the occupation of the peninsula.
While these events reverberated in Turkey's relations with Russia, Turkish officials took care to underline that the cooperation with Ukraine is not aimed at any third party and that Ankara favors a peaceful settlement of the Russia-Ukraine conflict. Russia is most likely unconvinced. In April, Russia imposed a travel ban on an air flight from and to Turkey which was later prolonged to June 21. Officially, the decision was justified by the growing number of coronavirus infections among Russian tourists who visited Turkey, but since the flight ban was announced just few days after the visit of Ukraine's president to Turkey, analysts assumed that it was politically motivated.
Moscow was arguably also irked by the fact that several joint defense projects and arms procurement plans were dicussed during President Zelensky's visit to Turkey; and the the announcement – made while Zelensky was in Turkey – that the first flight of Bayraktar TB2 over Donbass had taken place is sure to have added to the annoyance – and apprehension – of Russia. Ukrainian media have in fact been speculating whether Kyiv is preparing to reclaim the territory by using Turkish UCAV technology.
CONCLUSIONS: Turkey has consistently been expanding the reach of its unmanned military technology across Russia's southern and western borders. Apart from Azerbaijan, Ukraine and Poland there are other prospective clients: Latvia and Kazakhstan have both shown an interested in procuring the Turkish UCAVs. These are both relatively cheap and have proved to be successful on the battlefield against Russian and Soviet weaponry.
The export of Turkish military drone technology into Russia's neighborhood and growing military ties with Ukraine and Poland increasingly put Turkey at odds with Russia. But the emerging Turkish-Polish-Ukrainian axis is a powerful demonstration of Turkey's determination to defy Russia.
AUTHOR'S BIO:
Natalia Konarzewska is an expert and analyst with a focus on political and economic developments in the post-Soviet space.